40 Fall Date Ideas That Put Dinner And A Movie To Shame
It's time to (pumpkin) spice up your relationship.BY ALYSSA GIRDWAIN, PERRI O. BLUMBERG AND JAMIE SPANFELLERSEP 15, 2021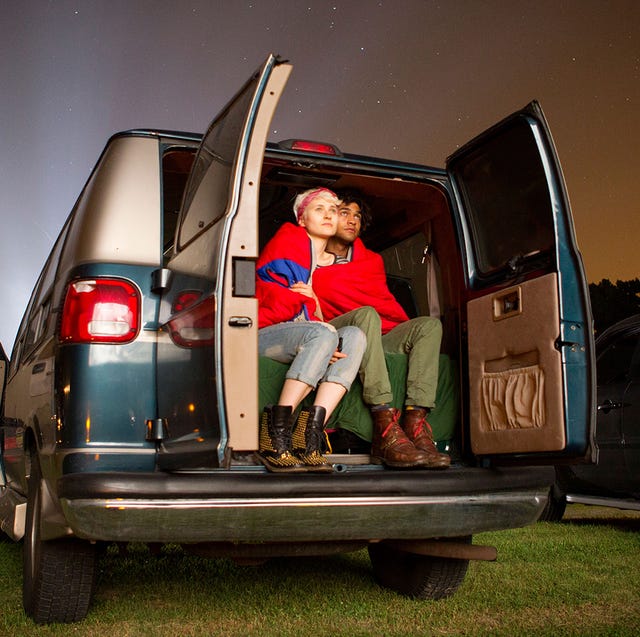 Fall is, hands down, the best season (very willing to debate anyone who thinks otherwise). For one, there's the rainbow-colored foliage. Then, there's the crisp sweater weather. And last but not least, there's a smorgasbord of cool date ideas, from cider sampling to curling up with a good book and a crackling fireplace (or virtual background!).
If you've been in a date-night rut as of late, consider this your opportunity for a fresh start. Trying something different can breathe new excitement into your relationship, no matter how long you've been together. In fact, experts agree that engaging in new activities with your partner adds spice (perhaps of the pumpkin variety?) to your relationship, stimulates conversation, and helps you see your person with fresh heart-eyes.
Shawntres Parks, PhD, a licensed marriage and family therapist, stresses the importance of finding the sweet spot between the familiar and the new when it comes to dating: "The combination of novelty and comfort is ideal for sparking excitement in any relationship."
"Most people want to do special things," adds matchmaker Stef Safran, founder of Stef and the City in Chicago. "We get bored when we do the same thing week after week." (Netflix and chill? More like Netflix and nah.)
Planning a date can also be a tad stressful and time-consuming, especially if you're already nervous about meeting someone new. Lucky for all you lovebirds, WH has got you covered with 40 fall date ideas you can claim as your own (I won't tell!) to spice up the season. Put your summer fling to the test, or reignite the spark in your long-term relationship with these festive dates.
Have a wine and charcuterie night at home.
Amber Lee, certified matchmaker and dating expert behind Select Date Society is a big fan of this one. "Pick up a couple bottles of wine, gourmet cheese, crackers, hummus, olives, meats, homemade bread, and anything else you like to make the perfect charcuterie board at home," says Lee. "This is a great date because making something together will create a bond between the two of you."
Visit a haunted house.
There's no shortage of haunted houses to explore during October. Theme parks even lean into spooky season with special scary fall attractions, says Lee. "Experiencing 'jump scares' together will bring you closer as the adrenaline and endorphins are flowing through your body."
https://532c780fe7349db09424eea29234c816.safeframe.googlesyndication.com/safeframe/1-0-38/html/container.htmlPERRI O. BLUMBERGPerri is a New York City-born-and-based writer.